I hope everyone is having a wonderful Valentine's Day!

I recently decided to make some changes to my SLG collection. The ones that I had in this style were very cute and I loved them but I felt like they didn't always go with my bags and what I was wearing. I wanted something a little more versatile that I could use anytime and with any bag (dressy or casual). So I went shopping and this arrived today...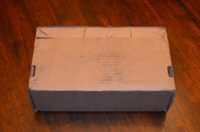 Hopefully someone is around for a tiny reveal!