Bought this By Far Rachel Bag in Cream from *******.com a while ago (before lockdown), and I just cannot get enough of it! I didn't go for the Brown/Burgundy colour because my outfits are already dark enough, and this off-white colour balances out anything I wear! (link to item -
https://au.*******.com/products/by-far-rachel-shoulder-bag-92832150?variant=34424754470956
)
It looks tiny but it can hold so much – my keys, tissue, cardholder, hand-sanitiser (yes, I'm not going anywhere without it), mask and gum (my daily essential)!
I have to say I was really impressed with the shipping time. I thought it was going to take ages given the current Covid19 situation, but DHL did such a great job. I ordered on Saturday night and got it the following Wednesday.
There are a couple of other bags are on my wishlist for my next purchase, including the Elleme Small Dumpling Bag. I'm eyeing it off for when we finally get out of lockdown here in Melbourne. I know Elleme is most famous for the Baozi or Vague bag but look how cute this is! I love the wrinkled effect and the smooth leather texture. (Link -
https://au.*******.com/products/192654abs000025-beblk-1?variant=31094930538540
)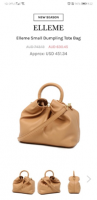 I'm also looking at the Manu Atelier Demi Bag. I know everyone was talking about their Cylinder Bag, but the shape just doesn't really appeal to me (too sausage-y). The Demi Bag is so much more girly. This colourway with contrasting textures (canvas/leather) has the perfect look and feel for Spring/Summer! (Link -
https://au.*******.com/products/elleme-small-dumpling-tote-bag-92823396?variant=34554753450028
)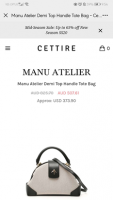 please vote which I should get next - Elleme or Manu Atelier!