Ok, I have to admit that I am a purse virgin. I tend to carry around totes and messenger bags b/c my style is pretty casual and I always felt intimidated by expensive bags. However, I'm trying to up my style factor and go for a more fun / funky / put together, but still casual look.
I'd really like to find a camel-colored bag, maybe something along the lines of this: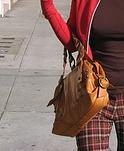 I just browsed tano bags online, and thought some of those styles were really cute.
any suggestions of other brands I might like?
Thanks so much!