As my BV future remains uncertain, I thought I'd post this reveal of the suede arco tote AKA my "barn bag". It's exactly what I had hoped it would be. The thickness of the suede feels substantial. It has ties at the top and a pouch inside. (I was told by my SA that the suede version of the Arco would only be available online, while the smooth leather ones would also be in the stores.) I sort of roughed up the suede a bit to give it more of a "stable" feeling.
As I've posted previously, I grew up riding horses. I got my own horse and began competing when I was about 13. Naturally, I couldn't drive a car, so I kept a tote full of necessities in the tack room. (This was common among the girls I rode with, as 'female accidents' were not unusual back then. We kept extra clothing and 'girl stuff' in the tack room with our saddles and other tack.) These bags were our Barn Bags. This bag reminded me of those and now that I can drive, I can stash it in the trunk of my car. I have been known to spill food/drinks while driving on short trips and like to have a change of clothes with me. Plus, a roll of paper towels, hand wipes, etc.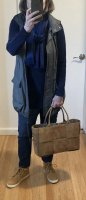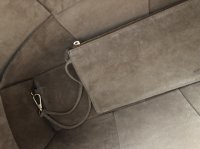 Even if this is my last BV, I'm happy to be going out on a positive note. I'm trying to remain open to new designs. And TBH, this isn't all about the change in designers. I'm also feeling that I just don't need any more bags, regardless of the brand. On the other hand, I may wake up one day with a whole new perspective......my brain is running this show and it's never been known to be very organized.
Last edited: