Fendi Authenticator
Moderator
Authenticator
O.G.
I guess I haven't updated this thread in a while.
I've been really busy with work, kids growing up and blending two families

I have a new SO (well, not really new...we've been together 4 years now) and we bought a house together in the new year...we really got a crash course on how being stuck together with 4 kids between us all the time would be during Covid-19. It was a great time for us to concentrate on our renos though, and build my...I mean..."OUR" new closet

This closet takes up two entire walls of the master bedroom. This side is my jewelry case and purse closet. The clothes are to the left.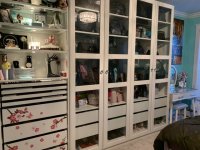 Last edited: