I have been trying to venture to Hermes for a few years now but haven't found what I like. I want practical bag and an outer pocket is a big consideration for me. Hermes doesn't offer many style in that spec. Lindy and Halzan are two Hermes bags I am considering although I still haven't made up my mind to pull the trigger yet. Especially for Halzan, I am not a fan of contrast stitching. But just last month I saw this Sauge color on the preloved site and couldn't get my mind off it. Being that light, the stitching is pleasant to my eyes and I really love the color itself. I was hesitant just because the style didn't make my heart skip a beat, which I believe it's a a sign for the perfect one, lol. But I went for it anyway as I kept thinking about it. I haven't had a chance to take her out but I have a feeling I made the right decision. It's very sleek, practical, lightweight and sauge is a gorgeous color.
Sorry for the long introduction. Here it is, thank you for letting me share.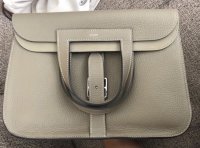 Can someone suggest how to clean the leather? I got it preloved and would love to clean it before using but not sure what product I should use. Can I use collonil or caddilac select leather cleaner/conditioner? And do you think I need to spray waterstop to protect color transfer?
I also notice the bottom part in the front is sagging a bit. Is there anything I can do to fix it? Thank you for your kind input.