After selling my (not so firm) single flap Black SHW Jumbo last year, I have been thinking what Chanel bag to add to my lonely Red Jumbo.
My Red J finally found her sibling!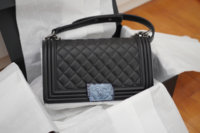 Chanel LeBoy Old Medium Lambskin RHW!
A friend of mine got this from Heathrow airport. Completely tax-free coupled with low GBP. This beau is a steal!