Sup all! Every so often I find the need to add a little pazazz to my Wangs by adding a purse charm every once in while. Now I am not your typical... Um... 'Girly girl' so to speak, so it's often pretty hard to find a decent selection of charms that have the rock and roll/edgy vibe that I am looking for, without being too cutesy.
My absolute favorite pieces are from McQueen, but given the price tag for these keychains/charms, I have yet to pull the trigger. A few months back I fell in love with one of the skeleton keychains they have, but just couldn't justify spending several hundred bones (no pun intended) on a key chain. I scoured the interweb to find an alternative, but couldn't find anything that had the more anatomical vibe that I was looking for. At this point I realized that if I wanted it, I would have to create it myself. With that said, I have included a photo of the keychain that was my inspiration (First photo), as well as my final creation (Second photo). What do you guys think?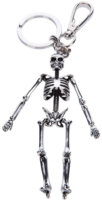 I also recently found a preowned Prada 'Edward' Trick on
eBay
for a steal that I couldn't pass up, which I just received yesterday. Edward has taken the skeletons place... For now

Do any of you use keychains or charms to spruce up your Wangs? If so, let's see them!