Prior to having baby #3, I said I was going on a break from handbag shopping; a "maternity leave" of sorts from coach. Well my baby boo is only 2 months old & I've since already purchased 3 bags! (gotta love the convenience of online shopping while nursing, lol). 2 bags are mine & the 3rd is a gift for my mom to thank her for moving in to help out w/ the kids for the past 2 months (I might have lost my mind w/out her!

)
I haven't been using my coach handbags as much lately bc I use a diaper bag most days I'm out, but I couldn't pass up on these...
I was considering a toffee saffiano tote on sale at Macy's, but fellow tpf'r WNYsketch kindly let me know zappos had one for $167! (Thanks friend!)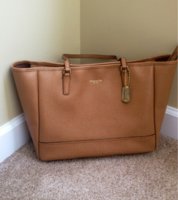 Still with tags, but it's a keeper. I love the color. Reminds me of yummy toffee & caramel candies. If I don't need to carry too many baby things, saffiano totes work well.
Next is my black violet duffle from FOS. I got an awesome deal, 50/20/10, so it was about $125! I wasn't sure about having 2 purple bags, but bv is very different from my uv duffle. And I've always wanted something bv. Such a rich beautiful color!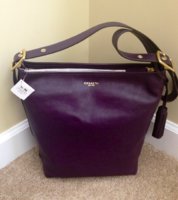 This last one is for my mom. It's the brick red twist phoebe (small). It's really pretty, but definitely more her style than mine. I let her borrow my cranberry phoebe recently & she liked carrying it. Part of me is prepared to give her my phoebe in case she doesn't like this twist one. I happily gave her my black cherry Molly last year, so as much I like my cranberry phoebe, I really don't mind letting her keep it too. I love my moms that much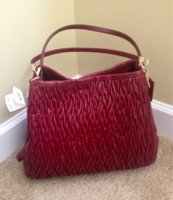 Group shot: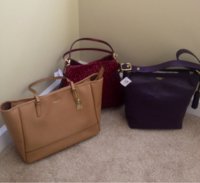 Thanks for looking! I really do need to go back on a break. I'm looking at all the bags in my closet & thinking, when the heck am I using all of these? Overall, I'm very happy w/ everything I currently have in my collection & cant think of anything else I really want... That's my mantra & I'm sticking to it!