Hi!
I have recommended Tumi various times, especially to people looking for rugged/long living, highly versatile but likewise clean/streamlined bags and luggage in/for very conservative/overly sensitive business settings. To me it's the "you can get away with it everywhere" brand.
Until now I never bought anything Tumi because I'm basically all set and it's not exactly a brand/type of product that I personally favor. Foremost I'm a LV guy and not afraid to show it, lol.
Now a good friend got me into this shopping club thing a while back and I found this Alpha Bravo Grissom Travel Satchel (in a discontinued color) - I liked it's size and the overall appearance. Given I have sold so many of my bags and accessories I though a 2nd weekender-type bag to accompany my Keepall wouldn't hurt anyway - I bought it and it arrived today: (Please bear with me, I'm not a professional bag reviewer...

)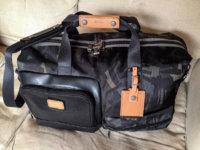 Height: 30,5 cm / Broad: 47 cm / Deep: 24 cm - comes with shoulder strap, luggage tag and TSA combination lock.
Their "ballistic nylon" is as sturdy as I remembered it, the leather pocket upfront is a nice detail - but why they put that lined pocket for stuff that easily breaks on the outside and so close to the ground (where it is easily kicked/crushed when you put the bag on the floor next to your seat...) is beyond me. I would have rather liked another pocket on the inside that is lined. But other than that my first impression is great.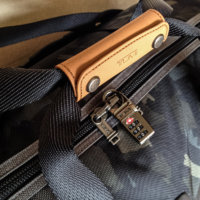 Upond handling the bag a little more, I find the leather wrap (for holding the handles together) to be on the more flimsy side. It's a very thin leather, incomparable to my Keepall's handles for example. Other than the flimsy feeling it is nice and well made.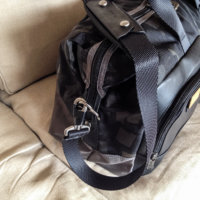 Up next is the shoulder strap. It's sturdy - as one would expect for a bag that potentially gets very heavy. It's attached quite securely as the snap hooks can only be opened in one position. This is great because it minimizes the chance of them unintentionally opening - but seriously got me thinking when and if that had happened to me before with other snap hooks on bags/luggage. I honestly can't remember any incident. But I think it makes attaching and detaching the shoulder strap unnecessarily hard. One handed operation is close to impossible. The shoulder pad is nicely lined and very comfortable and sticks quite nicely to the shoulder. This is great! Shoulder strap length: I really don't know what this bags strap length was based on - but it can't be a grown man. I hate, hate, hate it when a bag that is to be carried over the shoulder, or maybe even cross body has such a short shoulder strap that it literally kisses your armpit when the bag is packed. Out of all bags, even my Keepall offers a strap that is longer... To me it's a total fail. Luckily one that can be easily changed - as I still like the bag!
The main compartment offers one additional zippered pocket, I like the high-visibility lining. There's also the tag for Tumi's tracing program.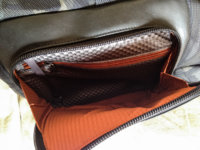 Large, leather front pocket. Another zippered pocket inside and a lanyard to attach keys or a flashlight to, something you don't want to loose to easily when taking something else out of the compartment.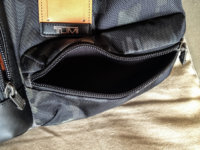 The lined outer pocket.
Last but not least the "add-a-bag"-feature to stack this on top of other luggage. It's opened via two zippers, sou it could basically serve as another pocket, close to your body. But I don't really trust zippers...
So whats my bottom line here? I like the bag, it will be very useful to me either as an addition to my Keepall or on its own. Would I have bought it at full retail? Probably not as the short shoulder strap really bothers me and requires additional "investment" into the bag. Otherwise it's definitely a quality bag, rugged and sturdy - maybe even a little sophisticated because of the leather details - it's definitely cool and through it's colors not your typical Tumi. I say it again, I like it.
Maybe this is useful for some others thinking about getting a Tumi and to get an idea about what to look for when shopping for one.
Kind regards,
Oliver