I purchased a small Givenchy Pandora in February 2016 over the phone from the Madison Ave store in New York. I was so pleased with my purchase and while I didn't use it as my main bag over the past year, I did use it on a couple of trips that I took over the past year. Upon coming home from my last trip, as I was taking the crossbody strap off to store the bag, I first noticed that the stitching on one part of the strap has started to come undone. Upon further inspection, I also noticed the leather/glazing of the strap where it attaches to the hardware is coming apart/tearing.
I am so disappointed that I spent $1700+ dollars for this bag and now I don't even want to use the crossbody strap because I'm worried that it might eventually completely fall apart.
I have tried contacting the SA that sold me the bag (her name is Eunice) but have not heard back.
Has anyone experienced this problem with their Pandora??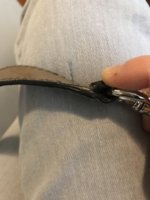 Last edited: