This sounds so silly but I am very disappointed in BV! I recently bought a card case and the zipper pull fell off when I took it out of the box.
I ordered the card case from the BV website after wanting one for years. This sounds so trivial to be this upset over a fixable problem. [emoji26]
Has a zipper pull fallen off anyone else's card cases or wallets before? Will BV fix them?
Thanks in advance!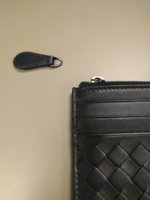 Last edited: