I've been wanting a So Black bag for awhile, and I think I'm ready to pull the trigger on a reissue in the 225 size. But...I can't decide between one in chevron or with quilts. Does anyone have either of these bags who can speak to their wearability?
I think the chevron is beautiful, but I wonder if it looks too trendy and I'll get over it soon. But I do feel like the chevron really suits this bag and hardware combo, so I'm torn.
For reference, I also have a quilted 226 reissue in a dark olive green color, a quilted boy bag, and a quilted CF (and looking to buy another CF with different leather and hardware)...so I have a decent amount of quilted stuff. I also have a burgundy chevron reissue in the
226
size, which I loved initially but eventually it just felt too big to me so I stopped wearing it (and now plan to sell it) -- but I still like the chevron on it.
If you have one of these bags and wouldn't mind posting a mod shot, I wouldn't be mad about that either.

And here are a couple pics of the two bags I'm interested in (note: these aren't my pics and I'm not planning to buy either of these specific bags -- these pics are just for reference). Thank you!!

Quilted: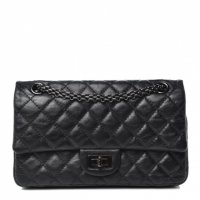 Chevron: