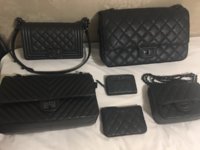 Hi everyone, I haven't been on here for a long time and I was organising my bags and thought I'd take a so black collection shot.
I am clearly in love with this style, and I'm a girlie girl. I just think it's so beautiful. My most used one is the largest reissue - I use it as a day bag and really enjoy it without babying it. I've had no hardware issues.
Thanks for letting me share.
Last edited: