... and not a sofa fall, I am still nicely in credit from recent sales! [emoji16]
So I decided that I wanted an oxblood continental purse - I have the mini Cara and SBS in the same colour, and I think it will go fine with my other bags too. The trick was to find one without a shiny gold plaque (I'd just scratch it straight away)... but on a nice smooth NVT like my SBS, which I selected v carefully and absolutely love!
As if by magic, one appeared... excuse the flash distortion in the photos...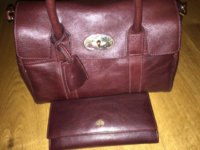 Last edited: