Hi ladies, I have recently purchased a pair of marmont mid heel pump, and I went half size down to prevent them slipping off. But they are a bit tight on the front . I might have wide and flat feet. I also went half size down on their sneakers and they are perfect.
So my questions are
1. How did you choose the size on their pumps?
2. For these mid heel pump, are they comfy or tight to you? Does the leather stretch over time? I can't find any info about it.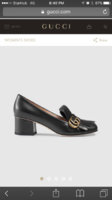 Thanks in advance!