May 21, 2017
2,100
14,686
I was browsing Hermes.com and saw a card holder in this leather but couldn't find anything else about it. Normally you'd get a "product details" section on the website where you can find some more details about the leather but that is missing for this particular piece.
Mini card holder in Silkiss lambskin with 5 credit card slots and palladium plated snap closure
www.hermes.com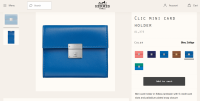 I did a search here on tPF and found 0 result. The only other mention of it I found via Googling is another SLG card holder that was listed on
Fashionphile
, with the stamp year being 2019
This is an authentic HERMES Silkiss Lambskin MC2 Gama Card Holder in Bleu Zellige. This stylish card case is composed of lambskin leather in blue and features two card slots. This is an excellent card holder that is practical with the classical sophistication from Hermes!
www.fashionphile.com
Therefore I'm guessing that this is a new lambskin leather that perhaps has only been used for SLGs so far. I know the chance is very slim but does anyone happen to have it? I think this might be the only other lambskin besides Milo that is currently in production? Curious about how different it might be.