Halloween isn't big in Australia but I still love any excuse to put out some decorations and have a bit of a party!!
We don't have children so it's a very adult-take on the theme and we also have somewhat limited space being in a 2-bed apartment, but this is what I did on the weekend: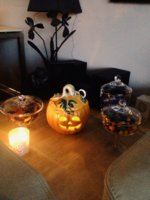 We're going to have some friends over on Friday night for a drink and then watch a scary movie

To be honest, there are so many lollies in those jars, I'll probably have my family come over on Saturday afternoon to help finish them off!!