I've been a lurker in PF since I was like 16 lol and now that I'm a 30 year old, I finally bought my very first Chanel!
It's a 2002 burgundy Classic Flap in jumbo (I'm pretty sure it's a maxi, tho, is jumbo vintage the same as maxi?) but... I just don't love it. It's crazy how it's been years since I've been dreaming of a classic flap but now that I own it my heart is just not in it.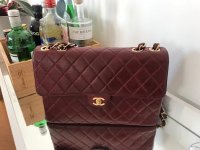 I guess it just looks a little more of a grown up bag than what I go for – I'm usually with my medium
Mansur Gavriel
bucket or my small YSL Lou. Maybe it's the combo with gold hardware, maybe it's because it feels a little too big for my taste.
So... I'm thinking about selling it to buy a large Boy. Opinions?
I don't carry much, so the size reduction shouldn't be too much of a problem.