Hi all,
I bought a Trendy CC about a year ago. I love it but haven't used it much, only a handful of times (it still has the stickers on - lol!). I've not used it much due to the Covid situation as I'm not going out as much, just essential outings really, and to work, so I've been using my WOC. Also, it's not really a grab and go bag as it's lambskin.
Last time I was in the boutique this bag caught my eye. I really love it. My SA told me it was calfskin not lamb. I love how it looks classic and vintage but also modern, and I love the gold hardware against the black and the flat quilts. I've not been able to get it out of my head.
Shall I sell my Trendy to fund this? I don't know if this bag would be annoying to wear as the top handle looks rigid. I would want to use it as a casual every day bag. Also, I do tend to be very fickle - I love something one minute then go off it, and then sometimes go back on it! Lol! Do you think this bag is too seasonal-looking and might be hard to sell later down the line if I got tired of it? Also for anyone who owns it are there any cons to it?
Would love to know your thoughts, particularly if you own this bag, or if you own both! TIA.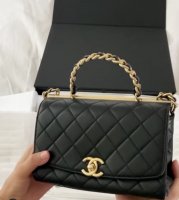 Last edited: