Hello ladies!! I'm thinking to downsize my bag collection and not sure if I should let go of this Chanel backpack... Understand that the newer range of backpack does not have front pocket like mine.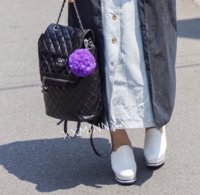 My boyfriend and friends kept telling me not to sell but this bag has been sitting on my shelf for a couple of months. I work in a corporate office and hence it's hard to carry a casual bag like this to work.
Hmm. Not sure if i would regret if i let it go or not...Someone please help!!