Good Evening,
I am a few stops away from ban island and I cannot make up my mind to pull the trigger. I want to add a Chanel reissue to my collection and always looked at the 226 black ghw as the option. I actually purchased it back in May but exchanged it for the Chanel Chevron black with ghw (I love this bag) photo of my Chanel bag collection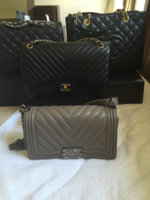 .
I told myself that I would look for a pre-owned reissue in great condition because I did go abit crazy during my birthday month in May. Fast forward a few months and I started looking at the reissues but I knew I needed to save up to make this purchase without using credit and my goal was to do so by the end of this year if possible.
I went in NM asking about the reissue 226 and they didn't have the black with ghw but they had the 225. I never thought about that size as an option. I tried it on and fell in love.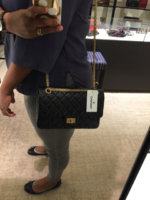 .
I've been searching online for a 225 black with GHW, it is very hard to find. They were some options on
eBay
but I got a little scared about spending that much money on
eBay
even with buyer protection plus some came without the authenticity card and were from several seasons ago. I am also concerned about the new repair policy so I don't want to buy a bag that won't be serviced if needed. I have the money to purchase a new one. All of sudden I'm getting cold feet about spending the money. Also the 226 keeps coming back to mind and I'm getting distracted by a great sale on Saint Laurent Sac de jour[emoji12] the other bag on my list before my ban island trip.