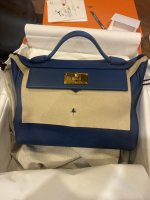 Just received this beauty. Initial thoughts are the twist lock can be fiddly and the doctor bag-like opening feels a little constricted. In that way it reminds me a bit of the frustrations when getting larger items in and out of my LV Speedy.
The hang on the strap doesn't bother me given how short the strap is which is a comment I have seen others make on this bag. I have a longer strap en route and am curious to see how it does crossbody.
Wishing it had feet for my sanity. Overall it's kind of like a Kelly and a Celine belt bag had an adorable baby.
Going to think this one over. It's a gorgeous color and I like the idea of an H quality back that isn't as easily spotted as a B or K, but the potentially frustrating opening and lack of feet might ding it on the user friendliness which is a huge must for me when investing this much in a bag.