Hello all

I have some credits lately and went ahead to purchase the mini ( or was it micro) Miu Miu matalasse backpack. I was slightly disappointed with the Colour as I originally thought it would be a cherry red instead of true red.
It holds my cardholder, iphone7plus and iphone7 in its large pocket as well as a couple of lipsticks in the mini pouch.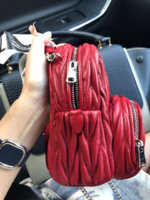 It also has a chain strap which I've swapped it for a replacement strap I've got at home ( though it's in Gold hardware instead of silver)
Let me know what u guys think!

))