Hi, I'm not sure if this is the right place to post this issue so sorry if I'm wrong

.
As some of you may have seen I just got my first LV piece which is a speedy 30 in DE. After reading of lots of quality control issues I have just given her a thorough check over and I've now noticed this:
As you can see the end of the diamond shape is wrinkled for some reason where as the other 3 are all nice and smooth like this: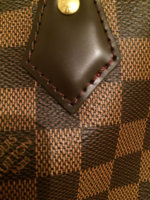 Please help!
Last edited: