Feb 12, 2006
33,573
2,982
After much tweaking and many, many fine tunings, here is my collection as it stands today. Please note that the photos are not really quite to scale with each other as I had to shrink and pull each individual photo to fit together.
Enjoy my fellow freaks!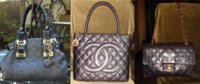 LV Motard (w/black speedy inclusion, Chanel Medallion, Chanel small deerskin flap

YSL medium muse, YSL large muse, LV mini lin speedy and zippy and beige inclusion bracelet

Coach: Suede Gallery Tote, small black Carly, suede signature Legacy, large chili Carly
The "Minkettes"
Prada, LV bronze Mott, LV damier Sophie, damier pochette, vernis heart in pomme, and assorted Coach accessories
**to see latest additions, see post 38**
Last edited by a moderator: