Hi. I have a spare bedroom that I decorated as a fashion theme, and it's used for guests to stay in when they visit.
*ETA NMP. I wish! Haha
Would it be weird to do a display like this without doors ? I'm conscious of guests being turned off with the idea of shoes out there and not behind doors. The glass doors at Ikea that come with this are sold out and they don't ship to my area, not the glass doors anyway. Any other affordable alternatives with glass door?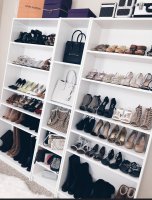 Last edited: