After having seen a few people's new vernis pieces, I had to head to my local LV boutique and purchase
something
. I started small: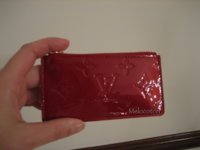 These pictures absolutely do not capture the stunning, deep, rich red color, but they give you a slight taste. No pun intended.

To photograph them better, I'll try using natural daylight tomorrow.
All the new pieces are lovely. I wanted the Roxbury Drive, but passed on it...for now.