Its gray and freezing today. So I threw on some black comfy joggers and a cold rated material black turtleneck so it is tight for it's insulation purposes. Then I saw myself in the mirror and all I could think of was the snl skit of sprockets

. So I threw on my brown sweater overcoat and a colorful wild animal to make me not laugh all day.
I am realizing I like gavs in winter for a hit of color even if over a turtleneck or under a loose one. Trying to justify my gav collection!! Version of H math ladies and a lot of creative thinking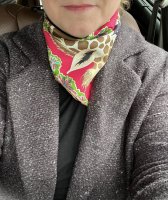 from Getty images.