Hi All,
I'm contemplating purchasing a sapphire and am getting confused about origin.
The more I research it the more it appears that value is closely linked to where it was mined.
The 3.1 carat cut-cornered-emerald cut stone I'm looking at is royal blue and from Thailand.
My jewelers are divided.
One loves it and says it faces up like a Ceylon so who cares about the cert.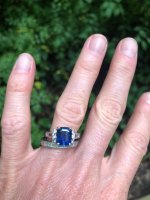 The other is a sapphire-snob and says I can do better.
My gut says it's awesome.
Any advice on sapphire origin is appreciated!
Thanks!