I know many ladies here don't use organizer/insert in their Reissue 227 and had reported the bags are fine after many years of use but I was too paranoid it will lose shape like so many preloved Reissue I saw on the market (which they might not be well taken care of) so I decided to order one and see how it goes.
I have to report again after some time but here's what I can share of just trying it once (just received today).
I trust Samorga for the insert of many of my bags but I just have one for Chanel. I think Chanel flap is small enough that I don't need another space taker but Reissue 227 is quite big that I am afraid it will lose shape after some time. The other reason I'm getting one is that I found that I often give pressure on the turnlock when closing the bag when not full and it creates light crease around the turnlock. The crease disappears when I finish closing but I'm afraid it will become more preminent with continuous usage.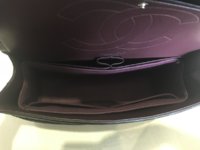 Comparison with and without insert.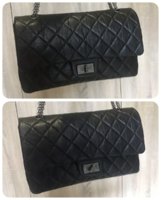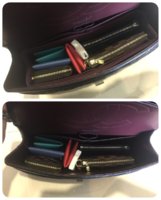 Doesn't change much from the outside but it is more difficult to close because the sides are more rigid with the insert in. After a few trial it became easier though. I like that it is sturdier, flatter bottom and no more crease when closing even if the bag is just half full. Plus I don't have to fill the bag with tissue paper or anything when not in use. So with the inconvenience, I like it better with the insert and hope that it will help the bag keep its shape longer. Finger crossed.