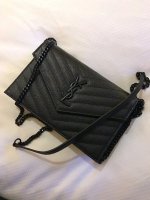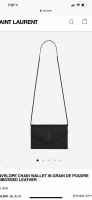 Merry Christmas and happy holidays to all! ❤️
I was wondering if any of you own or have seen this black on black wallet on chain? It is the smaller size which I prefer over the bigger one due to the chain strap being longer and love how it looks worn crossbody.
For any one that does own this bag or any black on black YSL bag, how is the wear and tear on the logo and chain? I've heard on the forums that if purchased directly from Saint Laurent, they provide some sort of warranty for repairs? Is this true?
Here are two photos - the one that is not from the website is a photo I had found online (it's not mine but thought I'd share!)
Feel free to share your thoughts on this bag