Can't decide decide on this bag I found at Marshalls today...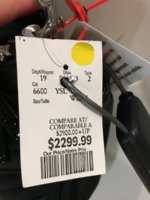 That's Canadian $. Is it too crazy to spend that much on?
I do love Saint Laurent bags, not their structured ones but any of them with embellishments/studs/fringes are very "me" - eg. the Emmanuelle Star Studs Bag is my favourite bag, so this is along the same lines. I love that they're unique and a little bohemian / rock n roll.
My hesitation is on price, also I'm not usually into big logos but for some reason this one doesn't seem as ostentatious. What do you guys think?