so as a huuuuge doctor who fan, I really love zipping around in vintage trenches that make me feel as if I'm also traveling through time and space (lol).
I've taken the hunt from local thrift stores to eBay and I decided to take a chance on purchasing a vintage Burberry coat from a woman, who describes the item being in 'terrific condition', and the 'only wear being on the buckles, as shown in photos'. She goes on to say that the liner works perfectly well, basically it all sounds really good and for the price I wasn't complaining ($90).
I won the bid and right at the very moment she presses me non stop for payment, I thought it was a little strange but hey, sellers need their money so I understand. (I paid in less than 36 hours)
Red Flag #1: After a mishap with the post scanning my item as delivered but not actually delivering, I called the post office who suggested I tell the shipper to open a case. When I messaged her, she got extremely hostile and defensive, saying I should check all my doors because she shipped it out.. I understand that, obviously there was a package for one to be missing, I just asked for her to open a case.
#2: after many phone calls and tracking down the local postman, I found the package on a different route and was able to provide my ID to retrieve it from the driver. Finally relieved that the difficult part was over, I excitedly rush home to try on my new find and whilst sliding my hands into the pocket, whilst my right hand comfortably stopped, my left hand sinks all the way down! To my surprise the pocket was bottomless! Okay, easy fix. Upset she didn't mention it though. I remove the jacket to see exactly how much the pocket was damaged and it was just terrible!!
There was a HUGE brown stain on the interior lining of the coat that stained the outside of the coat as well. Something obviously seeped through the pockets and seemingly she had to destroy the pocket in an attempt to remove the initial culprit. The lining which also met its sticky maker due to this brown mysterious stain was sealed together, making it impossible to unzip from the overall coat. I understand it's an old coat, but I think the seller shouldn't have neglected to mention it in her listing.
#3: I promptly emailed the seller once I've photographed all the main damages with the coat. In all fairness, she responded very quickly, but she was denying any stain or rip, going so far as to saying either something happened to it at the post office or I have destroyed the garment. It was just a whole bunch of attitude from her and it made me extremely uncomfortable as a buyer. When I asked if I can return it, she offered me a refund of 10 dollars so I would keep it. Living in NYC, 10 dollars wouldn't even pay for the repair of the pocket, much less a mysterious stain. I would have probably accepted it, but she kept blaming me for this stain, instead of just telling me what it was so I can tell the cleaners for them to properly treat it.
#4) I did express how much I liked the coat, so I would go to the cleaners and get a quote. I went to a variety of cleaners and dry cleaners here in the city run anywhere from $10 to 100+. I was fair and gave her a $30 dollar quote from a local cleaner (which included the price of fixing the pocket), and she now offered me $15 dollars for half the repair.
I've decided to open a case against her for a return do to the fact she neglected to mention any of these damages and I'm so over the back and fourth of her pointing the blame at me. I'm so bothered by this issue, what should I do? It's just not worth keeping at this point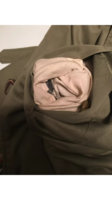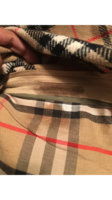 I don't know if I'm allowed to post the original listing in case anyone was curious, if I can though please let me know!