So I am fairly new to buying Coach, got my first one early last year and did my first FP boutique purchase during the last SAS late last year. Now both boutique and outlet SAs are beginning to recognize me!

So even though I essentially got the PCE 30% discount early with a price match on the Western Rivets Edie about ten days ago, I was still excited to get called about the actual PCE and did not want the opportunity to go to waste. Before getting the notice, I was browsing La Baie while visiting Montreal last weekend and a new bag caught my eye - the black Swagger Shoulder Bag with ombre rivets. It also filled a gap in my bag repertoire for a smaller bag suitable for evening pursuits, but also met my requirement for being pretty roomy, it fits more than a Dinky. So when I did get the call, I knew the black Swagger Shoulder Bag would be the one, paired with a matching small ombre rivets wallet that I was already planning to get. Only thing was whether to get the ombre rivets bag I was originally eyeing or the same bag in glovetanned black leather. After spending some time with both in the store yesterday, I stuck with my initial attraction and got the black Swagger Shoulder Bag with ombre rivets, along with the wallet! It is a pretty spacious bag for its type, width is close to 3 inches (they have it wrong on the Coach website), with a magnetic button back pocket that will fit a cell phone easily and another slip pocket in the front that will fit things like a pack of tissues in addition to the roomy main compartment. I will be mostly wearing it with the strap doubled on the shoulder but you can lengthen it to hang lower from the shoulder or even crossbody - but crossbody will likely only work well if you are on the short side, like me, I'm 5'2 and it hit my side at just the right spot so it may sit too high up if you are taller. It really is meant for shoulder wear. Anyway, without further ado, the photos...
Waiting to be unwrapped...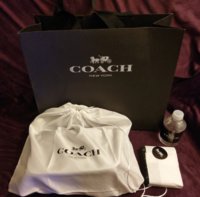 There was a lot of padding and plastic wrap on this bag, took a good 5+ minutes to get it all off. But once I did...tada!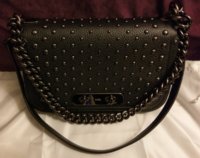 Nice gunmetal hardware
Back slip pocket
Flap up - back side is leather lined.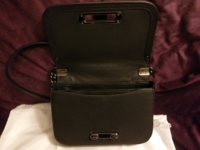 Another story patch that shows that the serial numbers on the creed are back.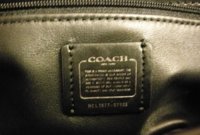 Interior main compartment is lined with smooth leather!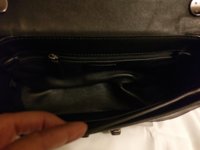 Bag with stuff in it (including keys in zip pocket) - still room for more!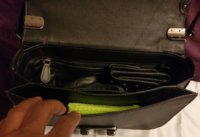 Bag with lengthened strap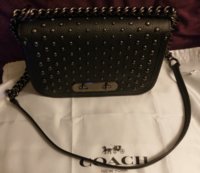 Side view with hang tags: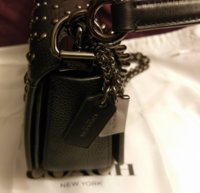 Last edited: