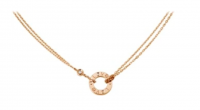 Hi ladies!
I would like to add a RG necklace to my collection and am down to these two.
I currently own:
- Cartier RG Love necklace (small hoops) - looking for a RG necklace to go with them!
- VCA sweet alhambra WG pave necklace and ear studs- these are my daily set
I am trying to decide between the Cartier Love necklace which would definitely go with the earrings as a perfect set, or the VCA pendant in vintage size (so it will be larger than my WG sweet).
I wear my WG set daily and maybe once or twice a week change into my RG hoops which are a lil bit dressier to me. I really want a RG necklace to match the hoops!
Do you guys think the alhamra is more timeless than the love necklace? My concern is that the love necklace may seem a bit young 10 years down the line (I'm in my early 30s).
XX