Bought LV oxford ballerina patent leather shoes in Nov 2013- was a little snug on the toe area. The SA mentioned the leather will stretch a little.
These were my first LV shoes.
Anyway, wore the shoes 2 weeks straight to break it - to work, to shopping, Monday to Sunday... the shoes finally became comfortable to wear... they finally fit like a glove.
However, first noticed that cracks line appear in the stitch line.
Brought back to LV; and had the specialist to check on it.
According to the specialist, it's the wear and tear and they will repair it for a fee. I argued it was the design flaw because the leather stretched from the stitch line I was devastated.
I have a pair of patent leather flats from Ferragamo bought a few months earlier than the LV oxford. The shoes are still in good condition- no cracks.
Anyway, I have decided not buy patent leather shoes from LV anymore. Best to stick with full leather where the stitching is concealed.
But in the meantime, it's been 3.5 years now & I shall keep wearing the shoes until they fall apart.
I stay in humid country, where sometimes I may walk under some rain/ wet floor. But never soaking wet.
Will allow the shoes to fully dried before I keep them.
I store them in shoe cupboard with a humidifier absorber next to it.
I cleaned them occasionally (like once a year) with wet wipes...
(The mentioned above are my personal opinion and honest review on the shoes.)
The shoes still looks good from far (& no flash).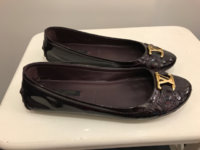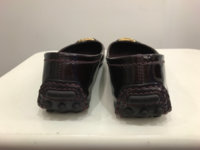 Last edited: