Holidaying in Hong Kong to visit family and stayed at hotel right next door to chanel at harbour city so I couldn't not visit! So while hubby was having an afternoon nap with the kids, i went down to chanel for a browse.
I was after a small wallet to fit into my mini bags. The wonderful SA showed me a variety of styles but ultimately, I had the classic style in mind and they had the exact combo I wanted so it was a quick decision.
While I was there I also looked for a large wallet for my mum who carries every card under the sun (don't ask me why!) and so I got her a large wallet in the classic style.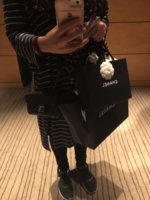 Here is my new classic quilted black caviar with silver hardware zip coin purse! I've opened it to do a reveal, but there won't be a reveal of the large wallet for my mum (for her to open of course!)