I was looking for a smaller wallet or cles in Empriente and in a blue or purple as I felt my ZCW was maybe not small enough, and since I've been using a wallet style case lately and paying more with my phone, I decided I probably don't need a "real" wallet like I previously did. I don't know that a Cles maybe is enough yet but maybe I'll find my dream color or they'll release it and I will get the perfect wallet case. Anyway...
I came across a listing for a preowned Secret Compact Wallet in Orage Empriente and the color is right in my wheelhouse. Once I verified it was authentic, I snatched it up for what I feel was a song. It had a small amount of scuffing at the fold but nothing I don't think is fixable based on the kind folks on here. And since its been preloved, maybe I'll be less insane about carrying it in my purse in a dustbag! [emoji16]��
So here are the pics. Some of these are the sellers photos. Mine have my name on them. For reference the size of the wallet closed is 5.1" by 3.9"
These are hers, shown with some of her bags for scale: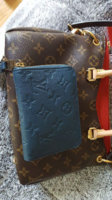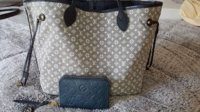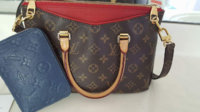 Last edited by a moderator: