I have owned other Coach bags, but they were all preowned. So I decided to buy my first brand new Coach bag during the Mother's Day sale!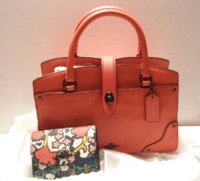 Here is the Mercer 24 satchel in deep coral with mixed yankee floral wallet!
Since this is my first brand new bag (and most expensive) I want to make sure that I take care of it properly. I ordered some Apple Leather Cleaner and Conditioner along with the Apple Garde Rain & Stain Repellent. From what I read it sounds like I should apply the conditioner first and then the spray before I use the bag. I also read that these products should be applied periodically (but I'm not sure how often). Since the wallet is coated canvas, I am not sure if that should be sprayed too. If anyone has any tips on how to care for and store bags and wallets please let me know. Thank you!