I've loved the Proenza Schouler PS1 bags for years now, but never ever pulled the trigger, as I always wanted to get one on sale, and none of the colours that went in at the time were ones I wanted.
This sale season though, I first found an Indigo PS1 in the Harvey Nichols sale, and was absolutely thrilled. Immediately ordered it and eagerly awaited its arrival.
However, just after Christmas, I was disappointed to find that Harvey Nicks had cancelled my order due to inventory error, which really pissed me off.
I found a number of options in sale but none spoke to me at all.
Luckily, I didn't compromise, and two days ago, I spotted another indigo on
Farfetch
!
Lo and behold, presenting my new love!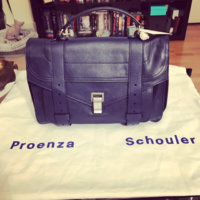 I can't wait to take it out this weekend!