Hi everyone! I just got back from a business trip from Munich and thought I would share with you what I acquired from the Hermes store in Munich city & Airport. On top of that, I thought it would also be interesting to tell you guys what happened when i tried to bring the bag back into the U.S.
I have always wanted this bag ever since I discovered the brand. Prior to going on this business trip, I called the H store and tried to make sure they'd have that particular bag in the color I wanted. But sadly, they did not have that specific color and I was skeptical about what they offered instead. After all, if I'm going to spend thousands of dollars on a bag that I want, I would want it to be the color I'd love every day! However, upon seeing the bag in person once I arrived, I fell in love with it! And here is the reveal...slowly....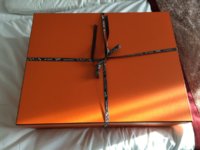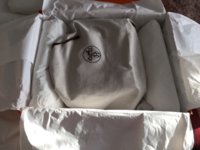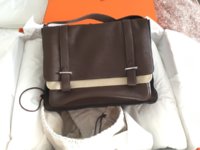 It's the understated, yet bold and beautiful Steve Messenger bag in the color Kakao (cocoa??). Originally, I wanted the bag in the color "gold". I'm not sure if you guys know what I'm referring to, because they appear quite different depending on the type of bag. But for Steve, the color gold is sort of like a caramel glistening brown color. I've seen that color combination from a blog here (
http://burbailey.blogspot.com/2010/10/begin-of-another-journey-hermes-steve.html
). The color Kako is actually very beautiful in person, it's very masculine and goes well with most of my work outfits (mostly on the lighter blue side). On top of that, I just love how soft the leather is! It's so supple yet sturdy at the same time. The only problem I can foresee with this bag in the long run is it might loose its shape since it doesn't really have a stiff integrity. Also, the SA had an etoupe color of the same bag and he'd owned it for 3 years and told me the color does rub off slightly overtime. Especially with a color this deep, it can be sort of more apparently when it does fade. But no matter, because I'm going to take very good care of this bag and treat it like it's my baby

In terms of the price comparison to the USA, I got this bag for €4950 with a ~12% VAT refund, which makes the entire bag come out to be around €4356 (~$4900)! It's a great amount of saving consider the bag is priced at $7750 + 7% NJ Sales tax. So in total, I saved about $3400 buying it in Europe! (this was pre-Brexit Euro impact at ~€1=$1.13). So happy I could scream!
Of course I couldn't walk out of the H store with just a bag since I'm also a huge fan of their scarves. I have acquired quite a few scarves from the H in states, but I thought I might as well get another one in Europe because of the VAT refund. I have always like H scarves for their artistic design and went after designs that are simple but captivating at the same time. This time however, I came across this BEAUTIFUL rare Jacquared print: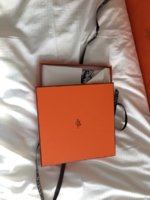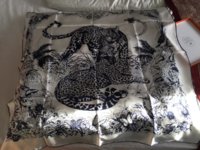 Can you see the beautiful insect embroidery on the silk?? It's absolutely gorgeous and rare! Love every bit of it. What's more is that this scarf is priced at the same price point as every other 90cm scarf, which was about €345 euros if I remember correctly. But again, with the 12% VAT refund, I definitely made out!
Now, you must be exhausted my long reveal! But don't stop here, because I picked up another cute little Hermes art at the Munich airport that I was unable to find @ the Hermes flagship store in Paris AND Munich city center, and it is....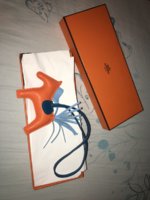 It's a cute little Rodeo! I think it will look nicely with the kakao bag!
Now, let's talk about my experience with US customs @ Newark Airport. I was stressed prior to arriving at Newark because I couldn't stop thinking about how much duty they were going to collect on this bag knowing that the custom people are not very competent and uses very random % figures to calculate the duty based on how they're feeling that day. I did not want to to happen to me so I looked up the tarif schedule, and I found out that for the bag it should be around 3% after the first $800 exemption.
I decided to declare the bag and other things and ended up not having to pay a single penny on any of the purchase. The custom agent asked me what the bag was for and how much it was, and just decided to waive me through.
All in all, I think the trip was very fruitful and I picked up many things I adore for a much better price point. Anyway, leave a comment and let me know what your thoughts are!