When I first saw this bag I fell in love! It looked both gorgeous and practical. After a kind of economic hectical spring I was hoping for this to show up on the sales and I was very lucky! Found it with 40% discount!
A small recruit in green!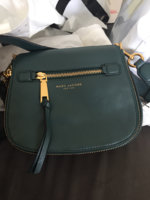 (Please don't mind the dirty mirror, me and my toddler have different views of what to do with a mirror).