I just wanted to share some things I picked up recently! I've not seen many postings on these types of items on the board, so why not? [emoji4]
First up is a little impulse buy. This is the glovetanned sketchbook cover in the Citrine colour. Each colour has something different stamped on the front and back, and I liked this combo best!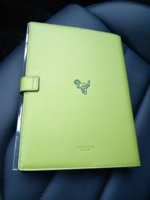 The actual sketchbook included inside is coil bound and soft cover. The paper seems to be of a nice weight and has a bit of texture to it. I haven't actually written anything in it yet, but I'm a fountain pen user and am hoping it won't bleed! I may just throw a different notebook in here as well... It seems to be an A5 size?
Next up are my new moto boots!!! I love them to death. Wandering into the store yesterday, I was actually just wanting to browse the new arrivals. I saw these on display in my size, marked down 50%, and had to have them! I had been admiring them all season but definitely wasn't about to pay full price. I'm glad I waited!
Sorry for the really awkward pics. The leather on these is incredible!