"We're all born naked and the rest is drag" RUPAUL
O.G.
Apr 27, 2009
11,416
227
54
I have just received my dream bag " Polka Dot Tote" as you guys saw on my reveal (yesterday)

but she does not come with out issue..
She was very dirty and had stains and this how I have restored her thus far. I used the apple cleaner to remove the bulk of the dirt and stains, then I washed the lining with soap and water. I also took a soapy cotton rag and washed the leather to finish cleaning her. This all worked very well but I still have some issue and hope you all can help me..
Some parts of the bag has the top layer of the leather rubbed off. and some of the dirt stains are not coming off. So here are my questions..I
Can I color the Leather, wear the color has rubbed with what and how?

How can I handle the dirty stains that will not come off?

The last question is about the Creed. It is very light it can almost not be seen. Is that normal on this bag or the bags of the time?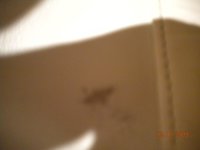 Last edited: