Hello everyone. Finally after 1.5 years I managed to get to this bag

Here is the initial identification of the bag
and many thanks to
travelbliss
The condition of the bag when I got it was pretty good - there was no significant damage except it was moldy and the lining was pealing off. There was some scratches on the leather and the shape was kind of... kinked.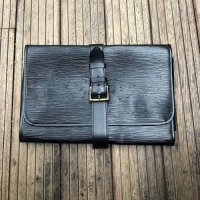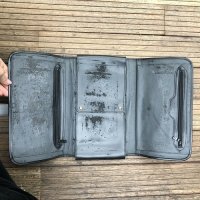 What I did so far was to clean the lining. It took me around 10h to get rid of it completely. I first tried with baby wipes but it didn't really work. Then I used a proper thinner, but I finished with a nail polish cleaner without acetone - it is not that strong and safer in any way. After I cleaned the horrible black sticky stuff, I washed the bag with a saddle soap. This is how the lining looked after that.
I'm still not sure what to do with the lining so so far I only used a gum tragacanth to keep the fluff from the lining under control.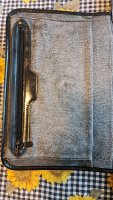 Outside I wiped the leather with nail polish cleaner to remove the sticky black stuff. The nail polish cleaner is good enough, it didn't damage the paint on it but I had to protect it again with a top coat/sealer.
The bag now also has a better shape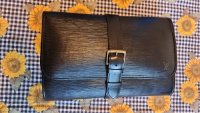 Now the top coat needs to dry and harden for a week according to the manufacturer instructions. Then I will buff it.
If anyone has any idea how to treat the lining, please share. I was thinking to use some acrylic paint, but I'm not sure about the result. I still have time to think about it.