Hi,
38 y.o. male here. I have always had some level of "resting depressed face". There are two problems, I have a deep wrinkle at the nose bridge, and I have some old scar lines at one eye brow. Together it makes me look quite depressed at selfies!
Any suggestions on what may be done to improve on this?
Bear in mind, I'm a total beginner regarding cosmetic procedures, and don't feel like taking any kind of risk.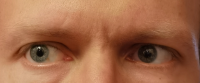 Thanks!