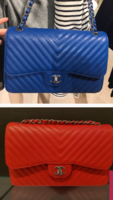 I know my local boutique is getting the chevron mini in both color.
(Photo credit
@Chanelmommaof3
)
I already have a square mini and rectangular mini. Both are in black lamb skin.
This will be my first chevron mini.
I like them both but can only choose one.
Which one would you choose?
Please help me decide!!
Thank you