Many people are wondering why there are people considered plastic surgery. Honestly, I don't dare to do plastic surgery at all. But when I got older, the more I felt how important the image is. I felt shy every time I went outside and I lost my self-confidence. (Here are some of my old pictures.

)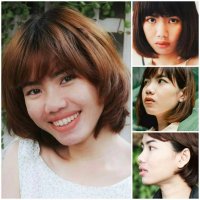 So I decided to improve my image which I considered as my investment. I planned my surgery and seek for the best surgeon who could help me to achieve the look that I want for myself. I ask some of my colleagues and friend for their recommendations and did some online research. Then, I found out my surgeon "Dr. C" as I called him but his real name is "Dr. Chakarin Suchakaro" he's a friend recommendation. I contacted them and booked a consultation with him and asked about my concern. Luckily, they responded so quickly. I met my surgeon "Dr. C" together with his staff and we discussed my concern. At first, I felt a bit nervous for myself but I knew I'm in the good hand. Dr. C recommended me to did my chin, nose, and lips to improve and achieve the image that I wanted.
Ps: Guys I'll try to continue it once I have free time to write.




Last edited: