Okay ladies, I have been wanting this color for a long time and I agonized over buying this bag when I saw it pop up on ILD. Well, I thought too long about it and missed it there. The price was a bit higher than I typically want to spend on a bag. After seeing Meilssa Purse's video on YouTube of her stunningly smooth Raspberry Florentine Satchel, I knew I had to have it. Then surprisingly, it popped up on ILD
Amazon
so I finally went for it.
Upon opening the box, I was disappointed. I had a feeling that I would not get one like Melissa's. I suspect that when I missed it on ILD, then it appeared on ILD Amazon, that it might be a returned bag due to the pebbling.
So I am asking for some opinions again.
Am I being too fussy about how this bag looks? Would you keep it or send it back?
The bag has uneven pebbling. One side more than the other. Pebbling on handles and bottom. I just don't know if I will regret sending it back or if I would grow to love it. The poor thing is also in dire need of conditioning.
If it looked like Melissa's bag (if you see her video, you may understand my disappointment more)....no question it would be a keeper. Please take a look at the photos and tell me what you think. Thanks!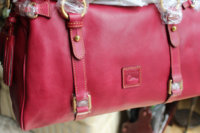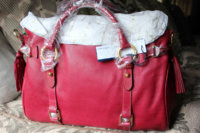 Last edited: